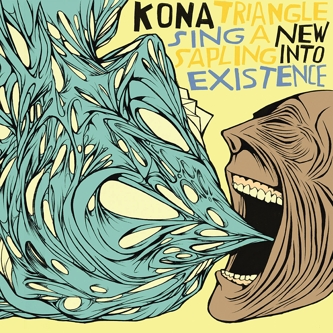 Kona Triangle
"Sing A New Sapling Into Existence"
Porter Records 08/09/2009
Kona triangle is a collaboration between British producers Tom (AKA Keaver and Brause) and Matt (AKA Lone).
Remember those dreamy, floaty soundscapes you experienced when you first heard Boards Of Canada and those random sliced up swung drums you first heard on that Flying Lotus record? Well Kona Triangle combine the two in their debut album "Sing A New Sapling Into Existence" to give you a sonic depiction of the subconscious.
Although the mood of album is very much ambient, many layered sounds appear at different levels of concentration. There is a strong emphasis on creating original sounding synths, rather than emulating en-vogue sounds.
"Sing A New Sapling" is full of contrasts. Although the beats reflect the current LA club scene pioneered by Flying Lotus and the whole Brainfeeder crew. The melodies and textures are more introspective and relaxed perhaps adding a sense of Britishness.
The average track length is relatively short for an electronic album, more like atmospheric snapshots than high adrenalin dancefloor stompers.
Stand out tracks include "Long Mountain" with its cheerful filtered swells. "Craig y Don Lightshow" strongly evoking the surreal moods of Blade Runner. "Air Lock", with its suitably vacuum sounding synth. The melodic syncopated staccato fragments of "Nemgo Broadcast Co." and the detuned machinery of "Toybox Kona Remix".
This album is perfect bedtime music, helping you channel your thoughts toward sonic dream worlds.
Links:
Kona Triangle Myspace
Nice Little mix by Lone (one half of Kona Triangle)
Tracklist:

A1: Heavens Gate
A2: Shine A Light
A3: Pinchbeck
A4: Long Mountain
A5: Astorias Ascent
A6: Fresh Flowers Ahead
A7: Craigydon Lightshow
A8: Airlock
B1: Sings And Wonders
B2: Nemco Broadcast Co.
B3: Mango Rubicon
B4: Toybox (Kona Remix)
B5: Mauna Loa